Become A Member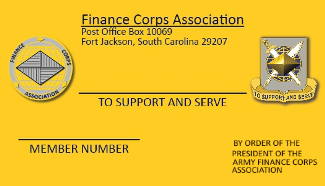 The Finance Corps Association (FCA) is a professional organization that promotes:
Esprit-de-Corps
Professional development
Fraternal bonding for all elements of the association
Mutual exchange and discussion of ideas
Members have full access to all the features of this website (see the Members page for details).

Display your pride in the Corps! Whether you are dressing up for a night on the town, heading out for a round of golf, or simply sitting back and relaxing with your favorite beverage; these accessories will show your friends and colleagues that you are a proud member of the finest Corps in the Army!
Notice to Members: The Vice President of Marketing Volunteer for the Finance Corps Association is currently on convalescent/parental leave. While purchases can still be made, store shipment may be delayed, and email monitoring will be limited. We apologize for any inconvenience this may cause. We expect to resume full operations during Regimental Week in May, where we will offer multiple options for in-person shopping. Thank you for your patience and understanding. Finance First!
Who We Are
The Finance Corps Association is a non-profit organization dedicated to furthering the interests of the US Army Finance Corps.
Our Vision and Lines of Effort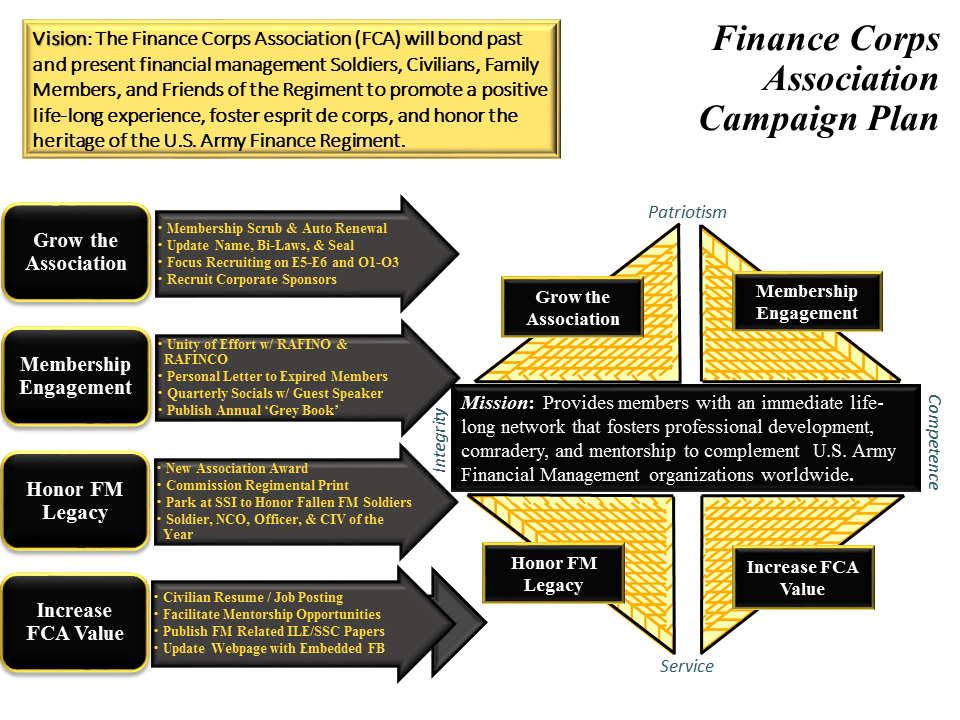 Our Mission
The Association's mission is to foster a spirit of goodwill and cooperative endeavor among its members and to perpetuate friendships and traditions growing out of their membership in the US Army Finance Corps...Read More»
From the Webmaster
Diamond Points Is Back!
Log in and check out the current Diamond Points (DP). You must be logged into the FCA website to view, print or download the latest news from the Financial Management Community.
We welcome your feedback, articles, and news from around the CORPS.
Sponsorship
Sponsored by RAFINO.ORG

This page is sponsored by the US Army Retired Finance Organization (RAFINO), a non-profit veterans' organization whose members are Army Financial Management soldiers who have or are about to be retired.
Every two (even numbered) years, RAFINO puts on a gala Reunion where retired comrades gather to trade war stories, catch up with old friends, and generally have a good time. The is scheduled to be in Charleston, SC in October of 2024.
Check out the RAFINO website for more information and our on-line membership application form.
Hot off the press: check out the RAFINO Reporter for Spring 2023